There are a lot of Indian restaurants in the Houston area. But when talk of the best Indian cuisine comes up, one restaurant is always mentioned: Himalaya Restaurant and Catering. Located about 45 minutes outside the Woodlands in southwest Houston at the intersection of Hillcroft and Hwy 59 (6652 S.W.Freeway @ Hillcroft, Houston, TX 77074), Himalaya has become the go-to spot for Houston foodies craving the best of Indian and Pakistani cuisine.
About Himalaya
Founded by Chef Kaiser Lashkari and his lovely bride Azra (both of whom are there daily), Himalaya has been delighting guests for almost 20 years. And the patron list is a who's who of national and local foodies: Anthony Bourdain was a regular when he visited Houston, Andrew Zimmern has featured Himalaya on his program, and the walls of this modest restaurant are covered (literally) with accolades from the media, both local and national. Chef Kaiser has been nominated, not once, but twice for a coveted James Beard Award, a feat matched by only a small handful of chefs in the United States. No restaurant in Texas (if not the nation) has been more recognized for its excellence.
The hospitality at Himalaya is warm and inviting. Chef Kaiser is ever present in the dining room, greeting guests and making suggestions for those overwhelmed by all of the choices on his menu. Unlike many restaurants, Kaiser and Azra are present every single day that they're open, insuring that quality never slips and that customers receive the best experience possible. This dedication and work ethic are remarkably rare today, and are a key part of the success that Himalaya has enjoyed.
Recognition
Speaking of overwhelmed, it's a bit overwhelming to first walk in to the humble Mahatma Ghandi District location, and look around. The walls are literally covered (and by literally, we mean in the literal sense) with recognition from food publications from around the country. Many establishments have a "brag wall" with a half-dozen framed articles praising the restaurant. But Himalaya has hundreds; I wouldn't be surprised if there are more in storage because the walls are out of space. It's a stunning visual testament to the excellence that Kaiser, Azra, and their hard-working team achieve each and every day.
From countless local food writers to Houston's James Beard Award-winning Alison Cook to national media from coast to coast to two nominations from the James Beard Society, Himalaya's walls reflect the recognition that has been showered on the restaurant by those who know great food. We were lucky enough to run into the late great Anthony Bourdain at lunch at Himalaya a few years back; talking with him was an incredible honor.
The Classics
Curries are a core component of Indian cuisine, and Chef Kaiser has not only mastered the classics, but he has devised new curries that reflect his approach to feeding hungry Houstonians. Perhaps the most notable example is his Chicken Hara Masala, a verdantly green Hyderabadi curry that combines large chunks of moist, tender chicken with lush herbal flavors and a moderate degree of heat. Mexican food lovers will adore this curry; the unmistakable flavor of green chiles and cilantro pervades each bite. This curry is utterly unique, and available only at Himalaya; folks drive from all over the state for another bowl.
Of course, the traditional dishes are well represented. From the best rendition of Chicken Tikka Masala that we've ever experienced to the savory Tawa Gosht (Alison cook called this dish "berserk boeuf bourguignon") to the Goan delicacy Lamb Vindaloo, Himalaya turns out a tremendous range of curries from mild to wild. One could spend many visits simply exploring the range of curries that Chef Kaiser has mastered.
Himalaya's Biryanis are superb version of this Hyderabadi classic. Made with a base of fragrant Basmati rice, variations include mutton (Anthony Bourdain's favorite), beef, chicken, and two vegetable versions.
Chef Kaiser is a master of grilled meats, many in the Punjabi tradition. The place to start is the Special BBQ / Grill Platter, which is a delight for any carnivore. Combining Lamb Seekh kabab, Chicken Seekh Kabab, Chicken Boti, Persian Kabab and Himalaya's famous Steak Tikka (another Bourdain favorite) this dish is an introduction to the range of tandoori grilled meats that Texans can't get enough of. We keep going back to this dish, because it's very difficult to choose a favorite from these savory bites, but if we had to pick only one, Steak Tikka would be our choice. Not only is this house specialty a delicious north Indian dish, it's one of the best steaks you'll find in Houston, with flavors unlike any other.
Himalaya presents a rare Pakistani delicacy that's not found anywhere else in the United States: Authentic Hanifa-style Hunter's Beef. This south Asian beef creation is reminiscent of pastrami, but with its own unique flavor profile. Andrew Zimmern gave this dish his highest recommendation; meat lovers should not pass it up.
As we mentioned earlier, the cuisine at Himalaya goes beyond traditional Indian and Pakistani cuisine, to Chef Kaiser's groundbreaking fusion dishes, which combine centuries-old desi spice and flavor profiles with modern American cuisine and sensibilities. He's always working on new fusion creations; this keeps the experience fresh and every week.
Chef Kaiser's Fusion Cuisine
Perhaps the best example is the iconic Himalaya Fried Chicken. Considered by many foodies and writers to be the best friend chicken in the city (no less than Andrew Zimmern raves about it to this day), this profoundly flavorful rendition relies on Chef Kaiser's secret blend of herbs and spices and a painstaking preparation, which begins days before the chicken even hits the fryer.
Whole chickens are broken down and marinated in a savory mixture of masala spices for 48 hours, allowing the rich flavors to permeate and perfume the tender chicken. Upon ordering, the chicken is dredged in a seasoned batter, and fried using the chef's selected oil that is changed out frequently.
The result is nothing short of remarkable. Friend chicken is definitely a big deal in Texas, and Himalaya's version stands alone with its incredible flavors that are infused down to the bone. Lovers of Nashville-style hot chicken definitely need to try Himalaya Fried Chicken; we think it's the next step in the evolution of this American classic.
Chef Kaiser has also put his spin on another iconic southern favorite: The pot pie. This staple of southern cooks has been elevated to the next level. It begins with a housemade pastry crust, as light and flaky as the proverbial grandmother used to make. But that's where things take a turn to the south; in this case, South Asia.
Instead of the tasty but often bland filling found in a traditional pot pie, Chef Kaiser kicks things up a notch or three with his Desi Pot Pie. He builds a savory combination of tender, juicy meats, fresh vegetables, and his own blend of masala spices to create a pot pie that's incredibly unique and flavorful. Kaiser doesn't do bland, and this dish is a perfect example of the wisdom of his approach.
The fillings of the pot pie change with the seasons and the whims of the chef, so be sure to ask what's available. We've sampled several, and wouldn't hesitate to order any of them again. And again. And again.
Conclusion
To say the food at Himalaya is broad would be an understatement; to say it is outstanding doesn't do it justice. Chef Kaiser Lashkari and his team have wowed everyone from dedicated foodies to award-winning chefs to the media to national food personalities. The approach at Himalaya focuses on providing great food to each and every guest, and after numerous visits, we can confirm that they are experts at exceeding expectations time and time again.
If you're seeking out some of the best Indian and Pakistani food in the nation, hop in your car and head down to southwest Houston to Himalaya. We think you'll be delighted. It's definitely food worth the drive.
Himalaya Restaurant | 6652 Southwest Fwy, Houston, TX 77074 | +1 713 532 2837 | http://www.himalayarestauranthouston.com
Chef Austin Simmons is on a tear. Originally moving to the Woodlands as John Tesar's sous chef at the late, lamented Tesar's Modern Steakhouse, Simmons quickly found a home with the Hubbell & Hudson empire, moving rapidly from the sous position to Executive Chef, where he quickly received notice from the food community. He helmed the Bistro, the Kitchen, and the catering operation, winning accolades for each. But it wasn't enough for this ambitious young chef.
So, in 2018, he closed the successful Bistro and reopened it a few days later as the reimagined Tris, to universal accolades. Previously, he had launched a successful tasting menu restaurant, Cureight, giving him a venue to flex is creative muscles.
Having conquered the competitive Woodlands market, Simmons wanted to bring something new, different, and unique to his guests in the Woodlands.
The result is CollaborEIGHT, a series of dinners, each conceived by Simmons and a notable guest chef.
The latest event brought Chef Dominick Lee, of Poitin to the Woodlands. Chef Dominick moved to Houston from New Orleans, and attended the Art Institute under the inaugural Chris Shepherd Underbelly Scholarship. He was executive sous chef at Kiran's, learning from Houston's matron of Indian cuisine, before moving to the executive chef position at Poitin.
The theme for the evening had a definite Asian influence, with chef Dominick's South Asian expertise melding with Chef Austin's extensive knowledge from his travels through East Asia.
The evening started with passed appetizers. Pictured above are Chef Dom's Fried Chicken Tikka Masala bites, a delicious spin on the new Houston trend of Indian-influenced comfort food. (The godfather of this new culinary style, Himalaya's James Beard-nominated chef Kaiser Lashkari, was in attendance at this event with his lovely wife Azra. The pressure was on, and Chef Dom responded beautifully.)
Next, Chris Perry, Director of Operations and General Manager of Tris, passes bite-sized renditions of Chef Austin's Kimchi Crab, a dish that has been wowing crowds at Tris since the opening.
If the appetizers were any indication, the guests were in for a very special experience tonight.
The crowd was seated at the intimate dining space, and the first course appeared: Chef Austin's Tom Yum Soup, accompanied by a nicely crunchy Shrimp Toast with sesame seeds. The bright, tangy flavors of the Tom Yum were complimented by the briny soulfulness of the shrimp.
Next appeared Chef Dominick's first dish: Duck Breast Korma. A beautifully braised and seared slice of duck breast was presented in a pool of light silky yoghurt-based sauce. Almonds and apricots added depth to the wonderfully tender and flavorful duck.
Now, it was time to kick things up. Chef Austin presented his Singapore Chili Crab with Fry Bread. Light, airy chunks of lump crabmeat surrounded by a zesty Singapore Chili sauce were combined with quarter-sized pieces of fry bread. The result was spicy (without being overbearing) and delicious.
Next came Chef Dominick's Pork Belly with Pindi Chana. The chick peas of the pindi chana were perfectly prepared; the chana masala that Chef Dom had whipped up was outstanding. However, the pork belly had issues. The skin's desired crispy texture had been taken too far; it was hard an challenging to bite into. The underlying meat was rich, savory and tasty, but a touch dry. Regardless, we still enjoyed this dish; the delicious chana masala and the well executed chick peas saved the day.
Heading east, we were presented with Chef Austin's Korean Short Rib. Perfectly sous vide rib meat was combined with jewel-like pork dumplings, and the spicy Korean flavors were deftly balanced. This was our bite of the night; I hope this dish makes it onto the menu at Tris.
Chef Dominick parried with a sublime Blanc Angus Strip Vindaloo with Aloo Methi. Strips of precisely mid-rare Black Angus were seasoned, served with lovely roast potatoes, and dressed with a subtle Goan vindaloo curry. Many vindaloo preparations lack finesse and carry lots of heat; Chef Dom's was skillfully balanced and delicious.
The dessert course was presented by Poitin's pastry chef, Hani Lee. Her Balinese Mille-Feuille featured buttery, razor-thin French pastry with a cream filling. Asian accents of coconut and papaya carried the dish from France farther east, and the result was outstanding. A delicious denouement to a very memorable meal.
In bringing together multiple cuisines of Asia, Chef Austin Simmons and Chef Dominick Lee flexed their culinary muscles to the surprise and delight of the assembled guests. The attention to detail shown by these talented men was impressive; the skillful execution of the Tris and Poitin teams is worthy of applause. We look forward to future collaborations between such talented chefs. The Woodlands is very lucky to be able to experience such world-class meals here in our quiet little suburb.
Update: Qomfort has closed.
Ray Aker is a man on a mission. He is a consummate restaurateur, a professional who enjoys pleasing guests and creating restaurants that serve the community and fill a need.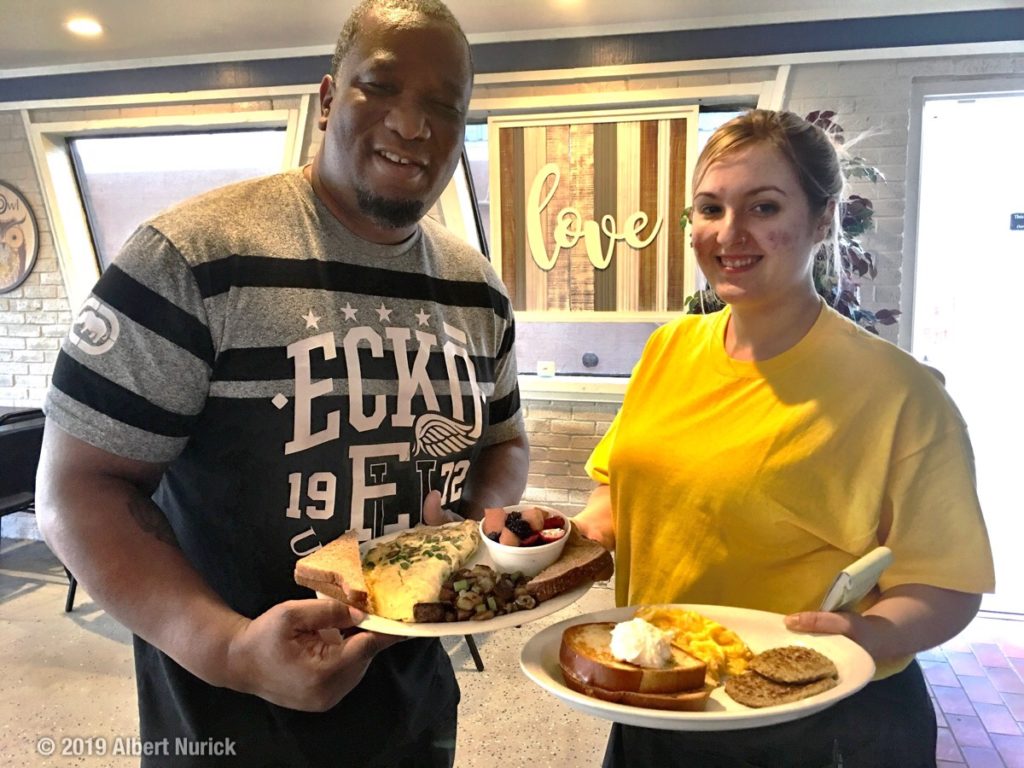 We were skeptical when we heard about Ray's first concept, Q-Shi, but one visit won us over, and made us fans. Rumblings about a new concept in the original (but remodeled) Q-Shi location had us intrigued; a phone call from Ray asking us to come check it out resulted in a quick trip down I-45 for a first look.
Welcome to Qomfort
We'd made the drive to the original Q-Shi location many times, including once for the filming of Diners, Drive-Ins and Dives with Guy Fieri. Upon pulling into the suburban strip center, we parked right beside the building. You can't miss it.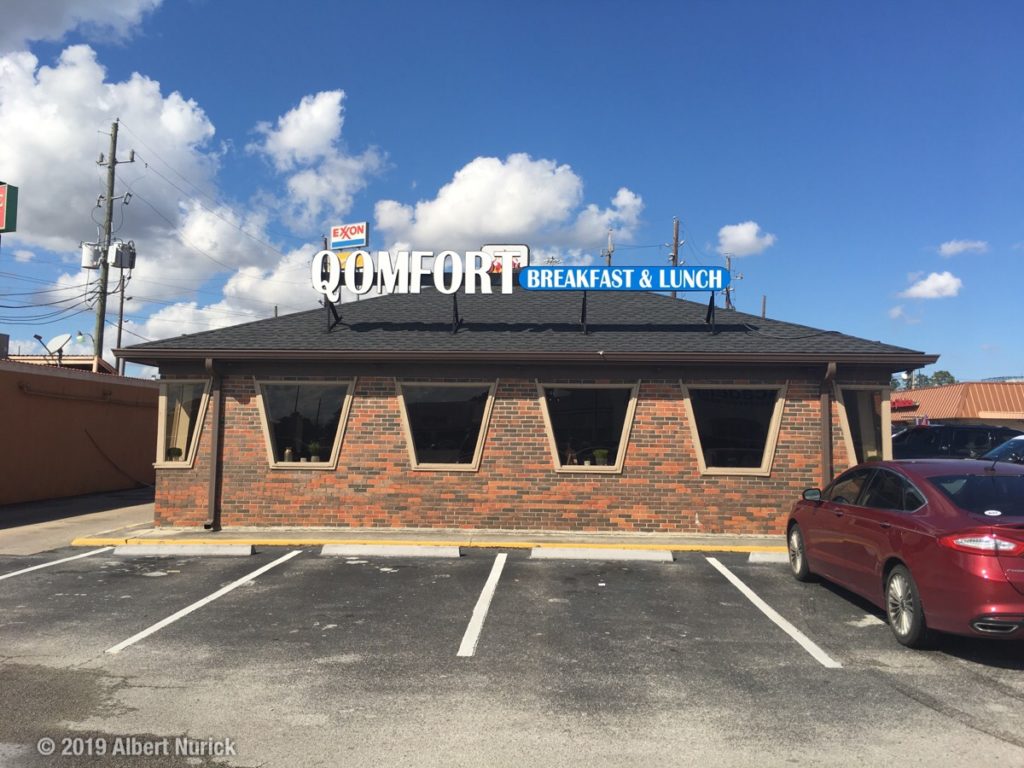 The outside of the building proudly wears the new Qomfort branding, proclaiming the availability of breakfast and lunch for the community. As always, parking is easy and ample. Walking inside the building, we were impressed by the changes. The look of the space has been freshened and brightened, and an inviting hostess station greets guests as the walk into the space.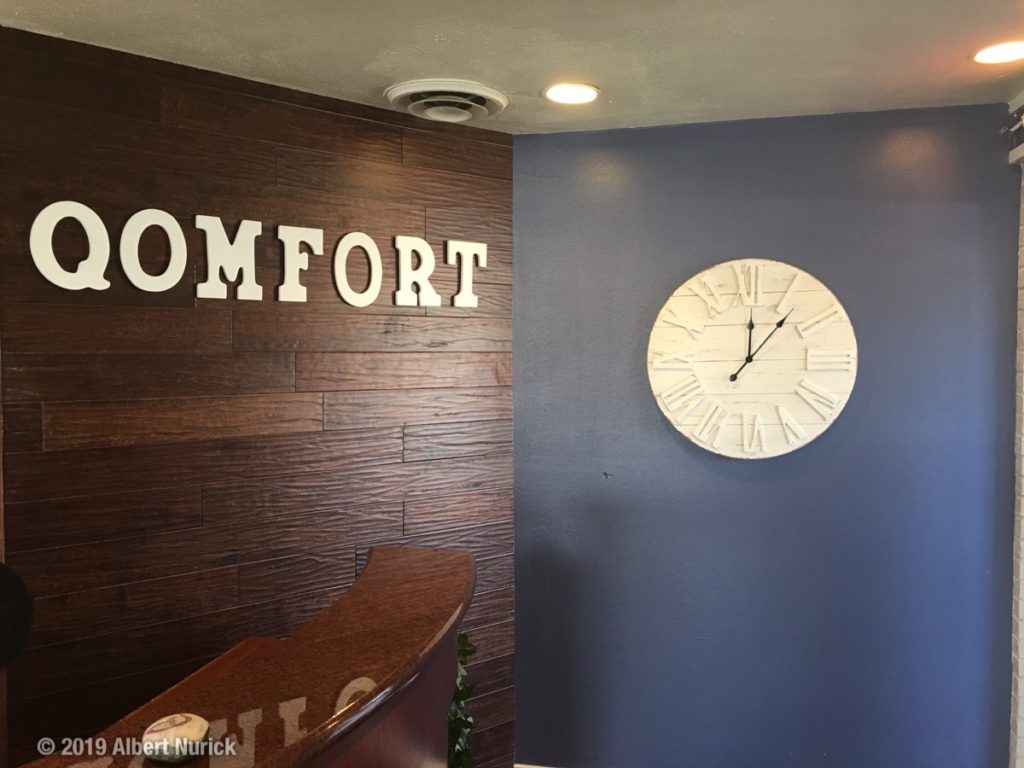 Qomfort opens at 6:30am, providing a quality alternative to fast food for morning commuters, and closes at 2:30pm, after the lunch crowd.
The menu is a tightly edited list of breakfast classics and speciality dishes. The specialities are interesting and outside of the box, as you'd expect from one of Aker's restaurants. They've tapped Chef Jonathan Branch to head the kitchen; Chef Jon has a broad culinary background, most recently as chef at 55 Degrees Wine Bar in Houston.
The Food
We sampled a few different items. First up is the grab-and-go option, a breakfast wrap. This substantial handful was a large flour tortilla, wrapped around chorizo, potato, and scrambled eggs. The wrap was very good; the house chorizo brings a lot of flavor and a gentle, slow heat.
Wraps are build-your-own, and you have all of the traditional breakfast meat options, along with several veggies.
Next up was a Southern classic: Shrimp 'n' Grits. Stone ground grits are slow cooked with smoked gouda, poblanos and roasted garlic, then finished with a housemade creole sauce with crumbled andoullie sausage, bacon, and nicely sized shrimp.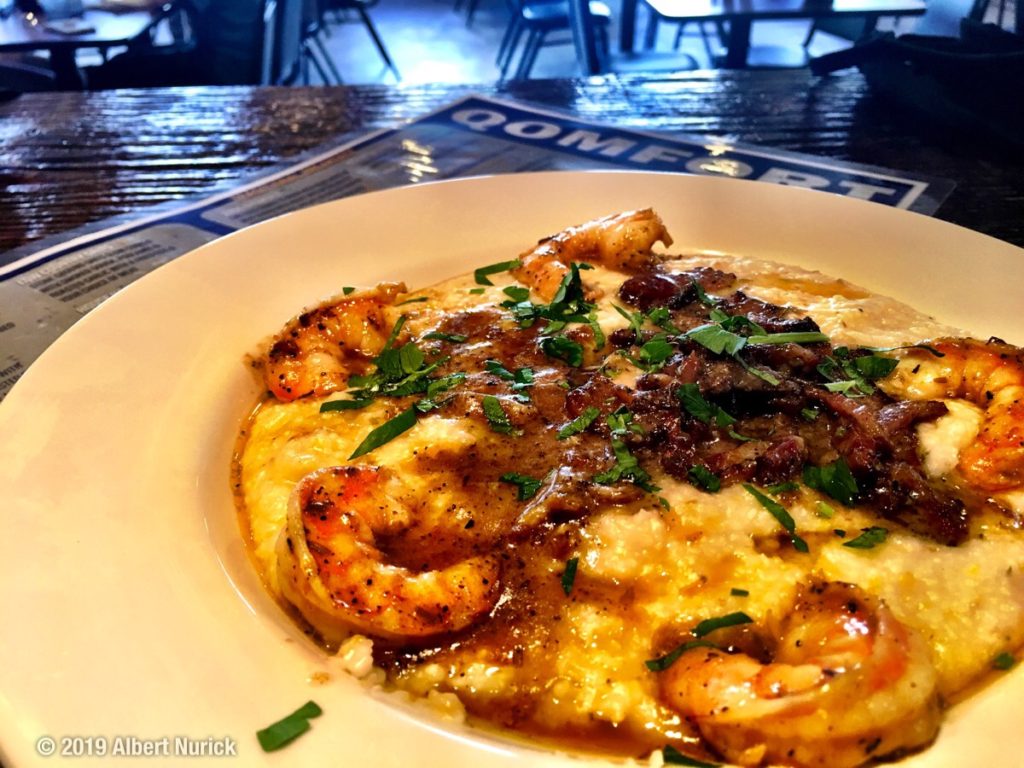 The flavors of the bayou come through loud and clear: Smoky, rising heat, creamy, smooth, and delicious. Perfectly cooked shrimp and beautifully textured grits complete this dish, and the result is a Southern classic we'll be ordering again.
The final dish came highly recommended. The Qomfort Signature Waffle, made with Chef Jon's Bread Pudding batter. Deceptively simple, it came topped with butter, and served with housemade Butter Maple Bourbon syrup.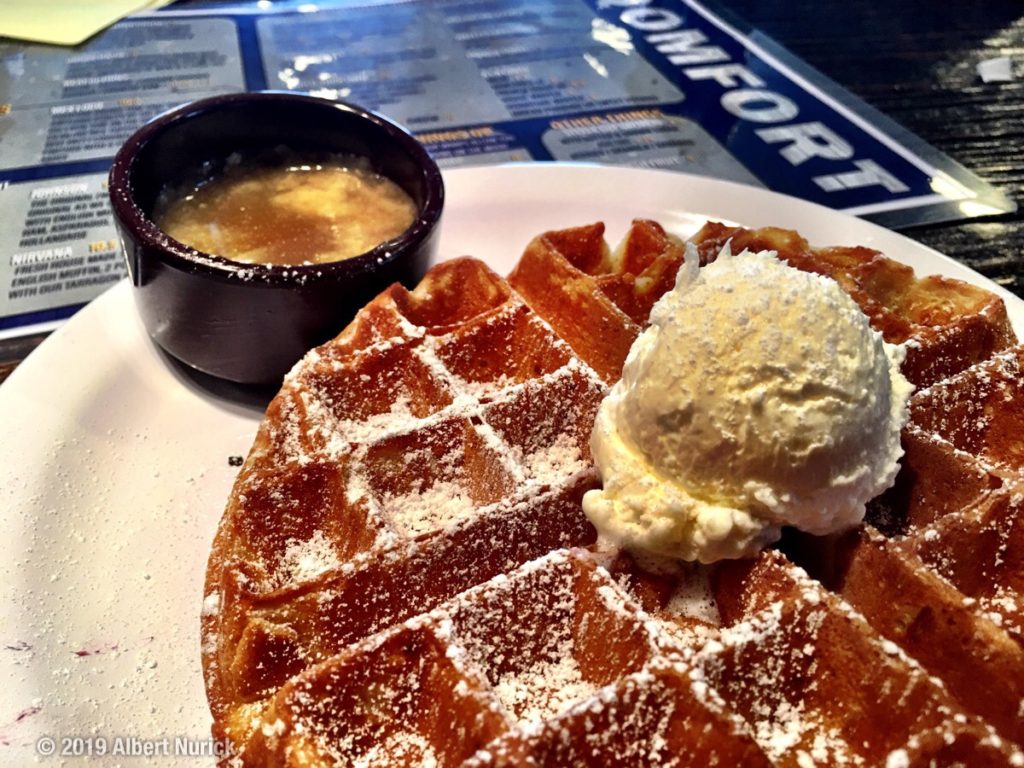 The light, fluffy waffle was outstanding; the complex sweetness of the bread pudding was an outstanding variation on this breakfast classic. But the magic happened when the Butter Maple Bourbon syrup was added; the result was lush, rich, and utterly decadent. It's the least expensive trip to the Big Easy you can take on a typical Houston morning.
We had high hopes for a new restaurant with Ray Aker's name attached to it; fortunately he and Chef Jon adroitly exceeded our expectations. We're delighted to have a new, great option in the Woodlands area for breakfast, and look forward to returning soon and exploring some of the lunch options as well.
Chef Austin Simmons is a man on a mission. I first met Chef Austin in 2010 when he was John Tesar's sous chef at Tesar's Modern in the Woodlands, Texas. John had just departed the restaurant, and Austin impressed me with how he took the helm and skillfully guided Tesar's after the master left, proving his years of working with Chef Tesar had paid off handsomely. Clearly, this was a young chef with talent, ambition, and the ability to take the reins.
Fast foward a few years, and Chef Austin had moved to Hubbell & Hudson Bistro, rocketing through the ranks to become executive chef. He elevated the cuisine, picking up accolades along the way. His restaurant was named one of the best in Houston, the best in the Woodlands, and most recently won the prestigious 2018 Truffle Masters competition, beating a slew of talented chefs including James Beard award winners.
Hubbell & Hudson Bistro had spawned a restaurant within a restaurant called Cureight, which specializes in eight-course tasting menus. This smaller venue allows Chef Austin and his talented team to explore some outside-the-box dishes, delighting foodies and becoming the destination restaurant in the Woodlands.
One thing you quickly learn about Austin Simmons: He's never satisfied with what he has accomplished. Realizing that a great restaurant needs outstanding service as well as great food, he hired guest whisperer Chris Perry (who opened Robard's Steak House, and as General Manager built it into the Woodlands best steakhouse) to polish the service and run the front of the house.
We'd heard rumblings that some big changes were in the works, and after months of speculation, they rolled out their new concept: TRIS, which takes its name from Chef Austin's lovely daughter.
Amazingly, the restaurant was transformed in less than two weeks. Contractors were working around the clock to rip out the old banquettes and booths, and convert the dining room into an open airy space. Perry trained the service staff on the elevated expectations he has for his team. Chef Austin (along with Chef de Cuisine Cortney Taraboi and Executive Sous Chef Brian Stanek) finalized and polished the all-new menu, which by design has something of a split personality.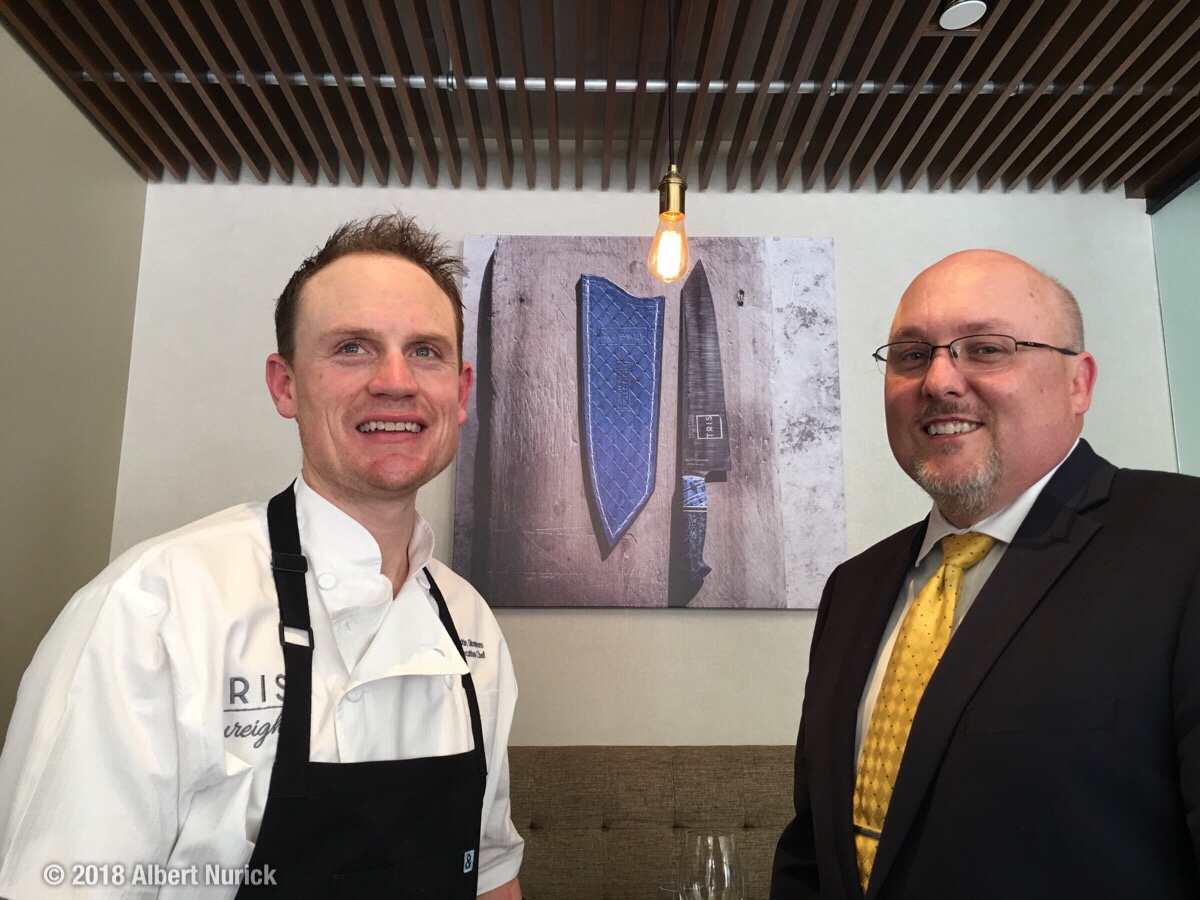 One Restaurant. Two Concepts
Realizing the varied needs of the Woodland community, Austin and Chris gave TRIS two distinct personalities.
By day, TRIS is a casual spot, serving a menu of classic crowd pleasers and some unexpected options. Chef Austin is not one to put boring recipes on the plate, so his versions of these dishes feature distinctive touches that aren't typically found.
By night, TRIS gets dressed up. White tablecloths come out, and the staff has a bit more starch in their collars. The kitchen ups its game even further, with a mix of reimagined classics and some of Chef Austin's more exotic creations.
Lunch - Casual, with Elevated Cuisine
We arrived for lunch, and were seated in a sunny spot where we could survey the room. Perusing the tightly edited menu, we zeroed in on what we'd try first.
We started with the Philly Cheese Steak. Mystery meat is replaced with razor-sliced prime ribeye, phenomenally tender and piled atop a fresh hoagie roll. House cheese sauce, grilled onions, shallots, and red peppers complete the creation.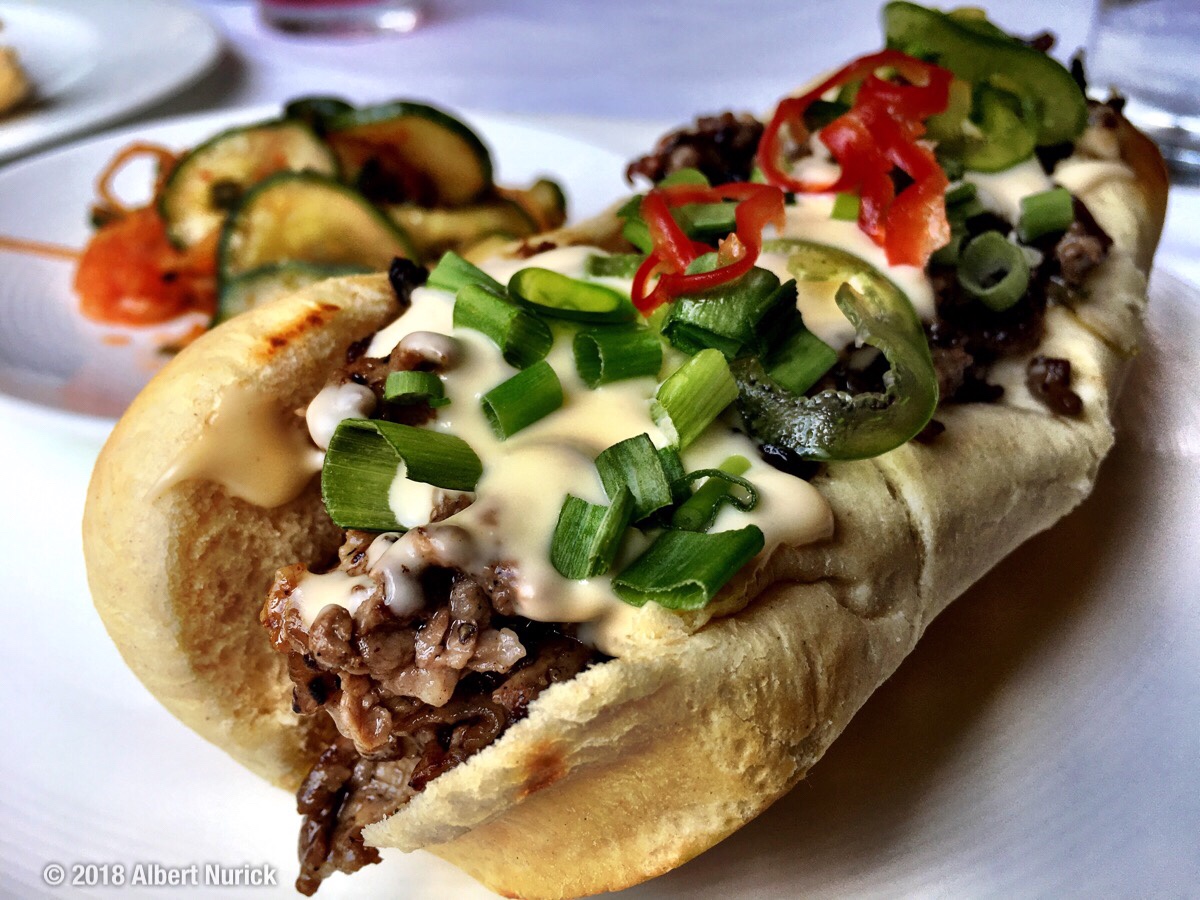 This is not your Uncle Larry's cheesesteak. The rich flavor of the tender, marinated beef is enhanced by the silky smooth cheese sauce and the tangy vegetables. You're never going to be satisfied by Cheez Whiz again after devouring this sandwich.
Next up was the Texas classic: Chicken Fried Steak. High-quality beef is pounded thin, then hand-breaded with a gently seasoned breading. Béchamel gravy, Yukon mashed potatoes with caramelized cheese, and huge asparagus complete the dish.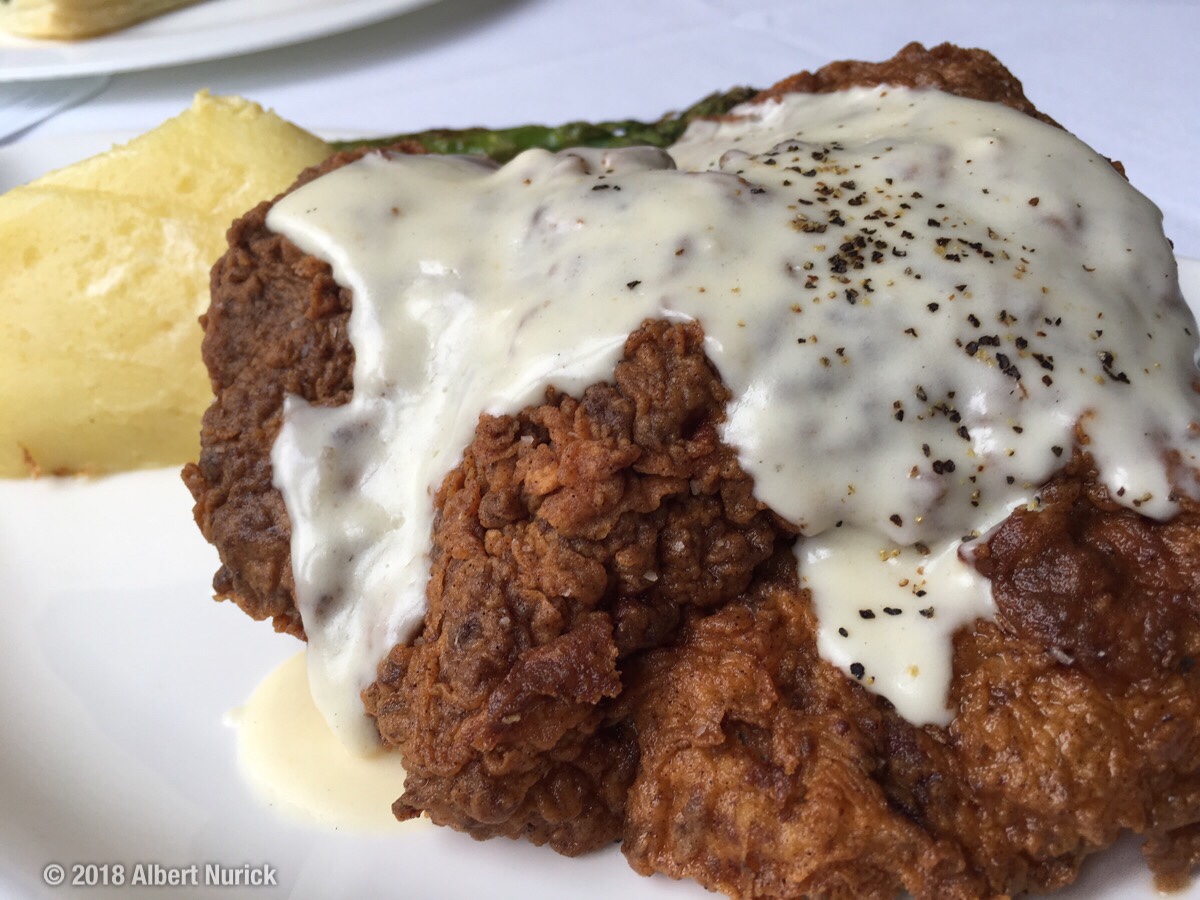 The result is an elevated version of this Texas favorite. The sassy béchamel is an upscale version of the de riguer cream gravy, and it pairs masterfully with the moist, tender beef and the snappy crust. The mash has a sweet, soulful undertone from the caramelized cheese, and the perfectly cooked asparagus demonstrates a deft touch.
Our dining companion was in the mood for something light, so we selected the Avocado Tart. What appeared was stunning.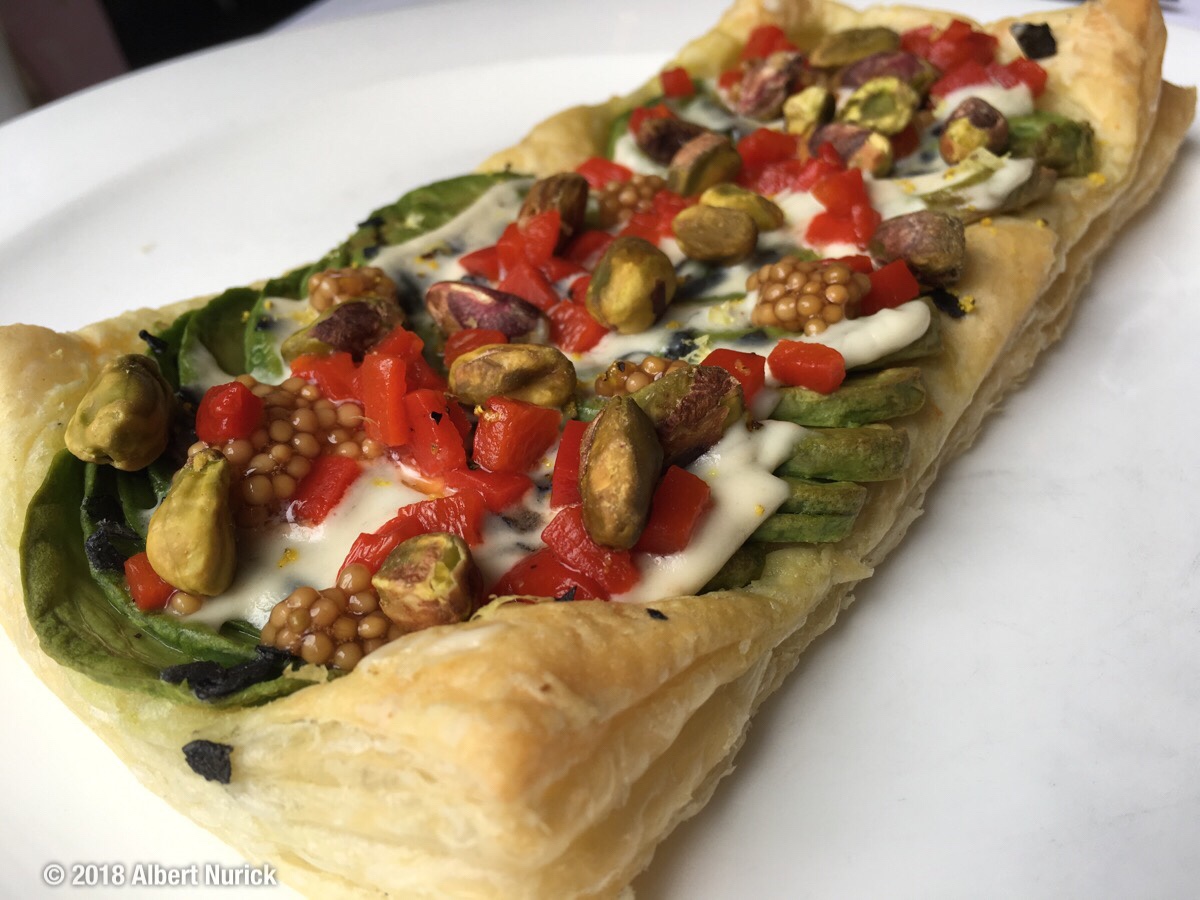 An etherial puff pastry was paved with thin slices of an entire avocado. vegan cashew cheese, chopped piquillo peppers, pistachios, and pickled mustard seed (almost a mustard caviar) completed this jewel-like creation. The result was delicious, and perfect for vegetarians... or anyone else who wants something light and delicious.
A lunch menu isn't complete without soup. Eschewing something simple, Chef Austin presented his Tonkatsu Miso Ramen. We were a little skeptical; we've not found great ramen outside of a dedicated ramen shop, or at the hands of a experienced master like Chef Manabu Horiuchi of Kata Robata. Will this difficult dish prove to be the undoing of the talented chef?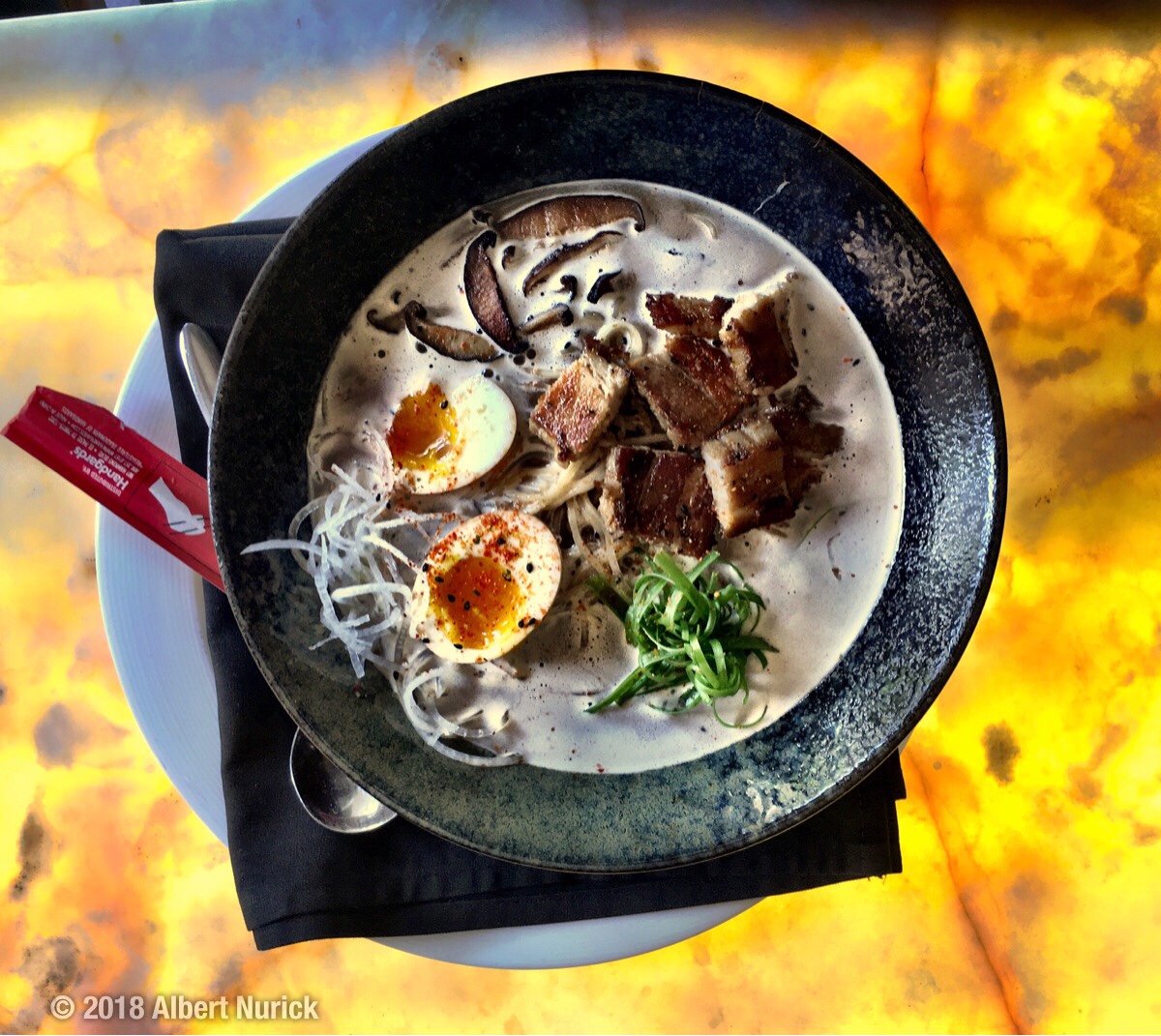 Never attack Russia in the winter. And never bet against Austin Simmons. Chef Austin's ramen hits all the classic notes, but was gently lightened for the lunch crowd. Artisan noodles (imported from Sun Noodle, the benchmark) are topped with planed mushrooms, green onion, smoky grilled pork belly, and sous vide eggs, then bathed in the 48-hour tonkotsu-miso broth. The result is soulful (without being cloyingly heavy,) flavorful, and memorable. This is real ramen, with Chef Austin's distinct signature clearly evident. He apparently picked up a thing or two on his recent food tour of Japan.
Dinner - TRIS Dresses to Impress
Returning a few hours later for dinner (oh, the sacrifices we make for you), we were welcomed into a totally different restaurant. The lights were dimmed, the white tablecloths were out, and the place settings were noticeably more formal. The menu had been replaced as well, and the staff's demeanor was a bit more polished. The menu had expanded, and taken a noticeable turn toward France... but with Chef Austin's signature Asian touches well represented.
Our eyes were immediate drawn to the foie gras, a popular luxury ingredient that is easy to mishandle. But we had faith in the kitchen at Tris.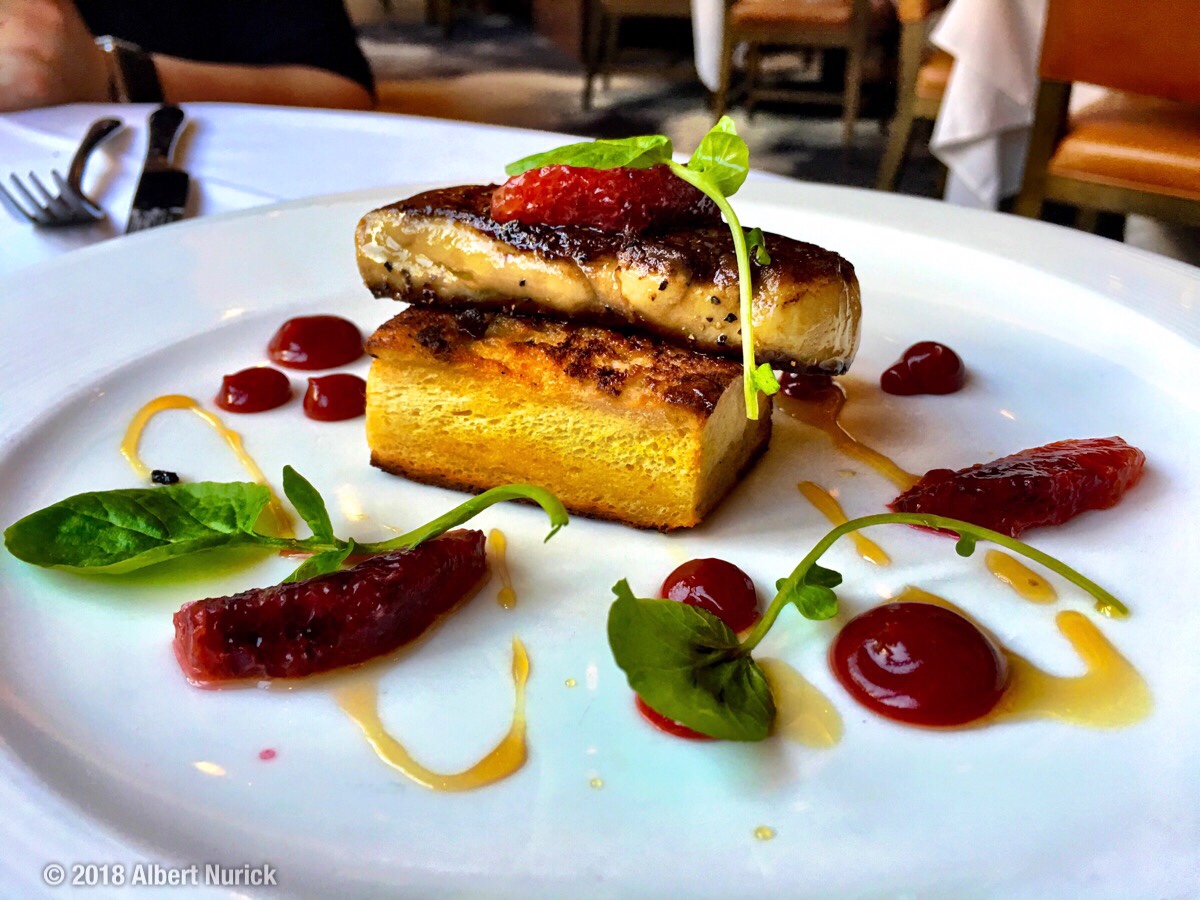 What appeared was an artful example of attention to detail. House made brioche was crowned with a slab of decadently rich foie, accented with blood orange, honey, and hints of truffle. The result was indulgent and delicious... the sweetness of the brioche and honey, and the tang of the blood orange offset the richness of the foie were in a beautiful balance. Easily one of the best renditions of this dish we've sampled.
As a contrast to a rich dish like foie gras, we chose the intriguing Hamachi Tostada as another appetizer. The blue corn tostada was layered with a generous portion of thickly sliced hamachi, shreds of cabbage, shaved onions, and slices of serrano peppers, glazed with a tangy Thai vinaigrette. This dish was bright, fresh, and delicious, a tribute to Chef Austin's mastery of Asian flavors.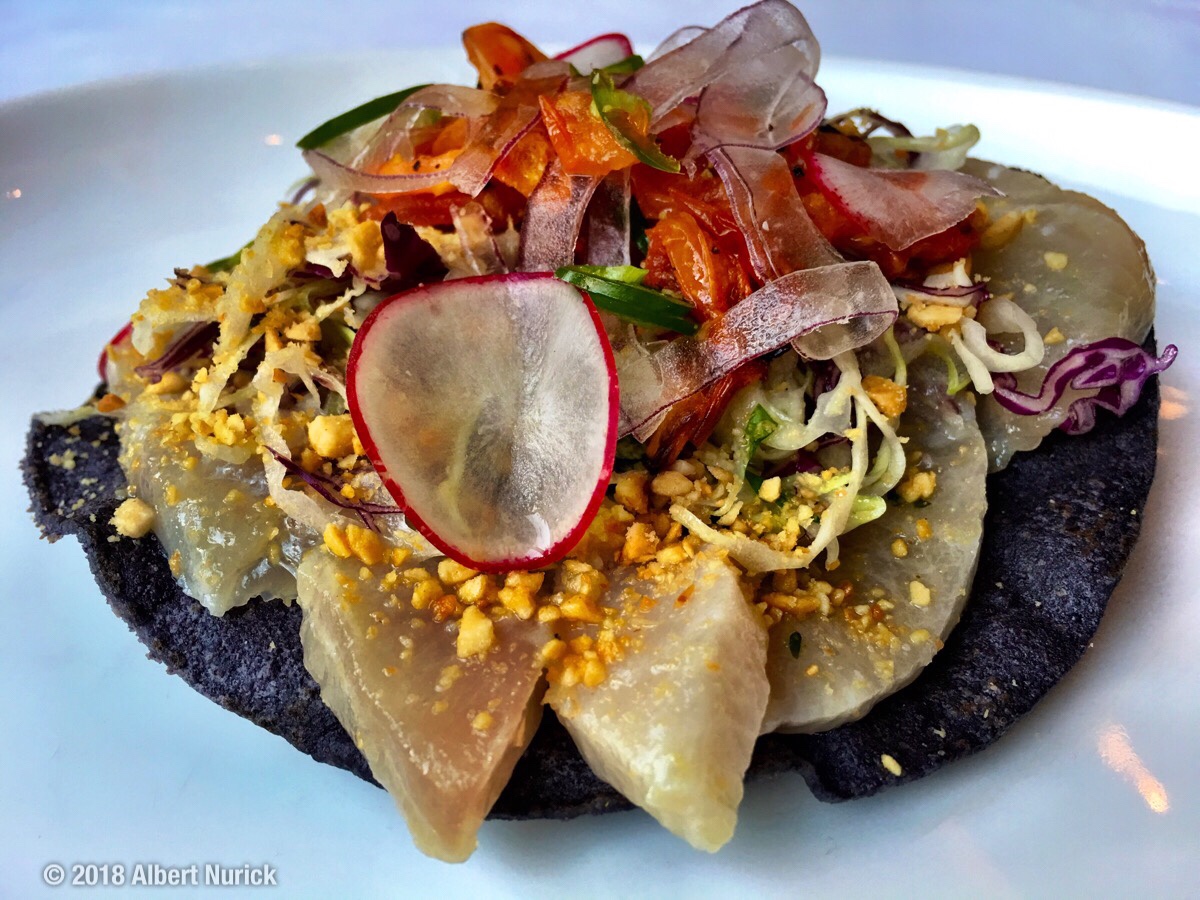 Now it was time for the entrees. We decided to sample from the land and the sea. We started with the 1855 Ribeye, a sliced, bone-in presentation of wet aged super prime beef.
Barely mid-rare (as requested,) it was deftly prepared, served with parsnip puree and a mound of flaky sea salt. The spectacularly charred beef had the subtle flavor of charcoal, and had a bold, beefy swagger. Easily one of the most memorable steaks I've eaten; I now have a favorite steakhouse very close to home.
On a more aquatic note, we jumped on the chance to order a classic we'd not seen on a restaurant menu in years: Lobster Thermador. This classic French creation (Escoffier first served it) is often considered the true test of a classic French kitchen.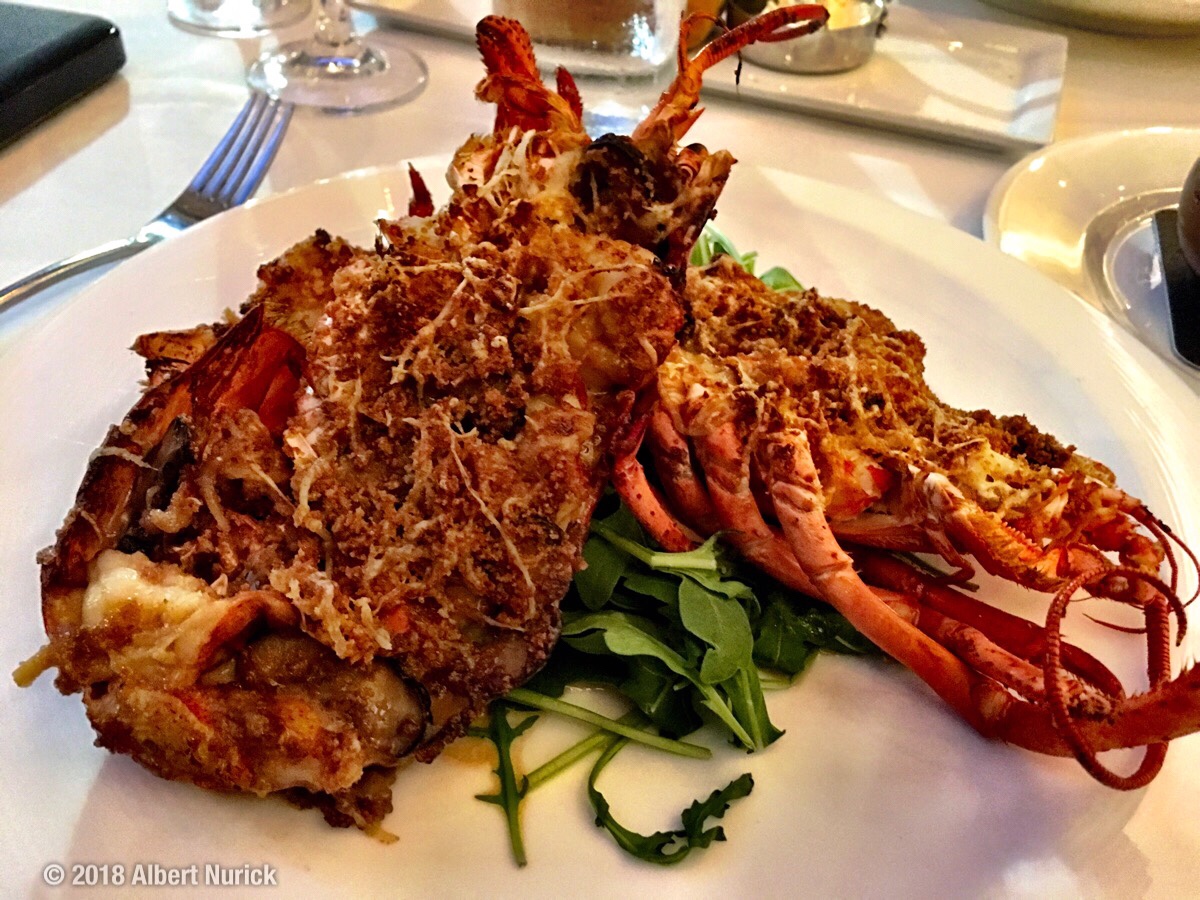 This is precisely the kind of challenging dish that Chef Austin executes so well. Huge chunks of lobster were removed from the shell, cooked, and glazed with a sublime cognac lobster creme, then combined with razored shiitake mushrooms and topped with a light crown of  freshly grated parmesan-reggiano. The result is a superlative, utterly decadent creation that every foodie has to order at least once. The tender, moist flavorful lobster meat is glazed with the cognac lobster cream, creating a bite that is perhaps the ultimate indulgence.
After this remarkable degustation, we wanted to wrap things up on a sweet note. The dessert menu was full of intriguing options, but one classic choice stood out: The signature TRIS chocolate cake.
The generous wedge of deliciousness was a revelation. The thick, glossy chocolate enrobing locked in moisture and flavor of the riotous chocolate cake, its layers divided by a schmear of caramel buttercream and salt. This simple but masterfully executed cake is destined to become famous; it embodies everything we love about cake but rarely end up tasting. An outstanding finish to an extraordinary meal.
Throughout the adventure the TRIS staff provided excellent advice and service; Chris Perry as been teaching them well. We look forward to returning again to sample more of Chef Austin's creations. It is exciting to have watched the enthusiastic young sous chef land in his own restaurant, expand his already formidable skills, rise to the top, and execute his vision on such an extraordinarily high level.
I can't wait to see what he comes up with next.
We make no secret that Tony's is one of our favorite restaurants... anywhere. With decades of dedication to a superlative dining experience, and unrivaled attention to detail, Tony's sets the standard in Texas for fine dining restaurants.
We were recently invited to take part in the #TonyLoveHouston wine dinner. This was a very smart idea; Tony Vallone and Scott Sulma invited a group of lifestyle bloggers to experience Tony's. This savvy group of media personalities trended young (I was definitely the senior citizen at the table) and they were well traveled and knew good food. But many hadn't visited Tony's before. It was fascinating to watch the reactions to a first time experiencing the magic that is Tony's
Upon our arrival, the main dining room was full of both energy and patrons. The beautiful room displays a formidable art collection, highlighted by a towering work by Jesus Moroles and a stunning work by Rauschenberg. Outside of a museum, one rarely sees this sort of art collection; it is an indication that you're not at a typical restaurant.
We were shown to the Wine Cellar, one of the larger private rooms at Tony's. The table was set for the soiree, with Versace chargers and the beautiful floral arrangements that are a hallmark of Tony's.
As the crowd gathered, appetizers and cocktails were passed. Allowing for the fashionably late to arrive, the first course was announced, and we were seated to see what Tony had in mind.
Tony and Scott welcomed the assembled group to the dinner, and Tony gave the reassuring words I've heard him say so often: "Have fun!" Even at an establishment as storied as Tony's, the mindset is all about joy and delight, and making sure the guests have a great time. This is one reason that Tony's has stayed on top for five decades as other fine restaurants have come and gone.
Now, without further adieu, the food:
The first course was an attention grabber. Caviale e Franciacorta, featuring beautifully carved slices of Granny Smith apple, topped with a heaping serving of Petrossian Caviar. The salty/sweet balance was inspired, and this course announced that this was not going to be an ordinary meal.
After a short respite, the Tonno Crudo in Camicia arrived as a second course. Thinly sliced, raw Ahi tuna was draped over braised octopus, and garnished with an heirloom tomato tonnato. Raw fish is something Tony's does extremely well, and this combination with the braised octopus was inspired.
Now we get to the pasta - something Tony does better than anyone else in Houston. Cappelletti d'Anatra Confit in this case. Handmade cappelletti filled with Crescent Island duck, sauced with an etherial Parmigiana stravecchio, and crowned with a freshly cut slice of Norcia black truffle. A perfect bite; my favorite of the evening.
The fish course was next: Opah Erbette. A perfectly cooked slab of this unique fish (typically found near the Hawaiian islands, and the first fish discovered to be warm-blooded) was finished with a lobster ristretto, petite herbs, and offered with an expertly seared slice of eggplant.
Lamb is a meat that is easy to mishandle. That doesn't happen at Tony's. Cotoletta di Agnello was prepared optimally rare, and accented with a combination of chopped bluefoot mushrooms and huckleberry jus. Easily one of the best lamb dishes we've ever tasted.
Foie gras is a delicacy that fits perfectly with the Tony's philosophy, and the offered Foie Gras all Fiamma did not disappoint. Pan seared with moscato and toasted farro, the lush, creamy foie gras was beautifully balanced with the acidic tang of the sauce.
Dessert was beautiful in its simplicity: Un Bacio Arancione. Pound cake served with orange sorbet and a light cookie crumble. After an evening of decadence, this simple,  beautifully executed dessert was the perfect finish.
Chef Austin Waiter, the Chef de Cuisine at Tony's generously allowed us to venture into the kitchen and watch the magic take place. Watching him work revealed a master technician who won't let a plate go out that doesn't meet his incredibly high standards. It was a privilege to watch the man do what he does so very well.
To say this event was a success would be a gross understatement. Tony Vallone introduced a new generation of thought leaders to the magic that is Tony's. In the course of our conversations, I heard many gushing compliments about the food, the service, and the atmosphere. But one I won't ever forget:
"I've eaten all over the world. But I've never experienced anything on this level."
It reminded me of my first visit as an adult to Tony's many years ago. I left with the same impression. Tony Vallone does that to you.
Thank you, my friend, for another spectacular evening.
We love the huge influx of new burger joints that has been happening all over H-Town. Like much of the media, we've covered lots of them. But one nagging question keeps popping up.
How do the older places compare? They rarely get any press coverage. Our sister site, TWTX.co, decided to change that. They go in, and see how Fuddrucker's stacks up to today's burger landscape.
Read more at TWTX.co
Tomball isn't normally viewed as a dining destination by foodies in the Houston area. But, our recent explorations there have shown us that this is going to change. From Tejas Chocolate's surprise appearance in Texas Monthly's Top 10 BBQ list, to reliable favorites like Gianna's Italian Kitchen and Mel's Country Cafe, Tomball has some very interesting food options that would appeal to anyone who enjoys good food.
UPDATE: Apparently, shortly after we published this review, the owners closed BonFire Grill. They have since reopened with a new chef.
Now, there's a new kid on the block to explore. BonFire Grill, located on Tomball's Main Street (aka FM 2920), is a newish establishment that has been drawing in both locals and those willing to make a drive to the quaint suburban town. BonFire has been enjoying great buzz in the Woodlands Area Foodies discussion group, and any place that this knowledgeable group raves about is worth investigating.
Finding BonFire grill is not an easy task. The sign is tiny. But your investigative skills will soon be rewarded.
Stepping inside, we were immediately taken with the warm, inviting setting. The vintage gas station has been converted into a cozy bistro. On our Thursday night visit, the dining room was packed; we snagged the one available table in the corner. The rustic dining room and connected open kitchen were bustling with energy and activity; this could be a hot new spot in Montrose if you didn't know you were in Tomball.
Perusing the tightly edited menu, we saw several items we wanted to try. We started with the simply named Mac & Cheese. What appeared was a revelation: A large crock of tender cavatappi pasta in a smooth, creamy, Vermont cheddar sauce, topped with a whisking of breadcrumbs and a sprinkle of parsley for color. This is an easy dish to prepare half-heartedly, but BonFire's version was outstanding.
Rich, creamy cheese, nicely al dente pasta, and the texture of the breadcrumbs made for a very satisfying start. We started devouring the dish, but had to put the brakes on... our main course was on the way.
We had struggled to choose between the enticing options on the regular menu and the specials board, but one item caught our eye. Actually, several items caught our eye, but we kept coming back to one dish that sounded intriguing and delicious.
We couldn't resist the Blackened Prime Rib Pizza, so we placed our order. After a reasonable wait, our pizza appeared, and the aroma was incredibly compelling. Pausing to photograph before digging in became a test of will; but we make sacrifices for our readers.
Before us was a medium-sized pizza with a nicely browned crust, topped with large strips of mid-rare prime rib. Atop the fresh housemade pizza sauce was a nice sprinkle of mozzarella, red onion, bell pepper, and a touch of cilantro. The crowning touch was a drizzle of au jus.
The interplay between the delicious pizza sauce and the phenomenally savory au jus was nothing short of magical; the beefy swagger was front and center, and the zing of the aromatic veggies was accompanied by a umami bomb from the au jus. This is one of the best pizzas we've tried in recent memory.
To say we were pleasantly surprised by BonFire Grill is an understatement. We walked in expecting a quiet, neighborhood pizza joint. We left feeling like insiders who knew a new secret, and that secret was one of the most exciting new restaurants in the Houston suburbs. Even if Tomball isn't a usual haunt of yours, you owe it to yourself to make the drive and check out the delicious cuisine at this hidden gem.
BonFire Grill | 425 West Main Street | Tomball | 281-844-7559
One of the more interesting and unique restaurants in Houston is Peli Peli. Specializing in South African cuisine, the upscale restaurant brings new ingredients and dishes to the diverse Houston restaurant palette.
Peli Peli Kitchen is the fast casual concept that brings the flavors of South Africa to Houston in a more relaxed, affordable setting. It has opened on the west bound I-10 feeder at Campbell, easily accessible from downtown or the west side.
(Disclaimer: The team at PPK was so anxious for us to try their new restaurant they invited us to a special tasting, sent their corporate jet to whisk us from the Woodlands to Houston's near west side, and plied us with their well selected house wines and craft beers before sending out course after course for our degustation. OK, they didn't send the jet.)
The team behind Peli Peli is an experienced one. Partners Thomas Nguyen, Aiki Kong "Michael" Tran, and Executive Chef Paul Friedman, bring their expertise in operations, marketing, finance, and of course cuisine and menu development.
Stepping inside the bright, airy space, your eye is immediately drawn to the beautiful original artwork that covers different surfaces throughout the restaurant. The seemingly abstract art represents different aspects of the business, from the partners, to South African references, to interesting details that reflect the concept and sensibilities of the Peli Peli operation.
But how's the food? We previewed several of the dishes on the well curated menu. Here are our first impressions.
Smoked Salmon Rosti
First up was one of PPK's breakfast dishes, the smoke salmon rosti. This South African take on a large breakfast taco includes smoked salmon, chopped hash browns, sautéed spinach, goat cheese, capers, a poached egg, hollandaise, and PPK's signature peppadew peppers, wrapped in fresh naan.
It's one of the most exciting takes on a breakfast taco we can remember tasting. Chef Paul skillfully combines the smokey salmon, creamy hollandaise, warm, comforting hash browns, and the zesty zing of the peppers. It's an entirely new flavor profile, but one we're already craving again.
Huguenot Porkbelly on Brioche
Next, we sampled one of PPK's cleverly conceived sandwiches. Warm, slightly sweet brioche was combined with hearty slices of pork belly, rubbed with hickory mesquite and slow roasted. Combined with fried onions, cilantro, and peppadew peppers, the balance of this dish was delightful. It's the perfect grab and go lunch for those in a hurry but not willing to compromise on flavor.
Braised Oxtail
This classic from the American South was slow-cooked until the incredibly tender meat falls off the bone. The subtle, layered flavors are sure to delight any aficionado of southern cooking
We've always enjoyed Chef Paul Friedman's South African fusion cuisine at Peli Peli, and are impressed by how the team has edited and distilled the essence of what makes that restaurant wonderful into this new elevated fast casual concept. If you've been to Peli Peli you'll love this place; if you haven't, it's an accessible, affordable introduction into the bold flavors and wonderful experience of South African cooking.
HEB is the type of organization that we love. Founded in Kerrville, Texas, the chain of supermarkets brings a wonderful mix of products to neighborhoods all over Texas.
We won't hide the fact that we're unabashed HEB fans, and it's the grocery store we visit first for all of our needs. (Truth be told, we feel a little dirty every time we walk into a Kroger or Randall's… like we're cheating on our favorite.) We've had great success with products that HEB puts their name on, since almost all products branded HEB are not only high value but also very high quality. Clearly this is an organization that stands behind what it sells.
We recently got word that the new HEB on 1488 in Magnolia had something interesting: An honest-to goodness BBQ joint inside the store.
Order at the Counter
Located right by the main entrance to the store, you can't miss the Texas-themed facade or the smell of smoked meat. (These HEB guys are pretty darned smart.)
Right off the bat, we're told that the beef used in HEB BBQ is 100% natural. "Natural" is a buzzword that doesn't have an official meaning, so we're glad HEB defined their take on it: No added hormones, antibiotics, preservatives, or artificial ingredients.
We place our order with the friendly, efficient staff member, and search out a spot to devour our BBQ.
Find a Seat
After ordering, we are directed to a side room that was easy to overlook at first. It's bright, spacious, and comfortable. We appreciate the honesty of the space; it's not trying to be a fake City Market in Small Town, Texas.
Plenty of seating is arranged throughout the room, and the wall graphics pull together this modern/rustic look that is comfortable and inviting.
Chopped Brisket Sandwich
We started with a quarter-pound chopped brisket sandwich. The brisket was coarsely chopped and shredded, and moistened with a tangy-sweet BBQ sauce. The flavor was unusual, in a good way; a bit sweet, a touch of tangy sourness, and noticeable peppery finish.
The chopped beef sandwich made a good first impression on us. It's above-average BBQ; nicely tender and filled with unique flavor from the sauce; a great start to our BBQ lunch. But it was time to move on to the next course.
Baked Potato (w/Turkey)
Next up was the beautifully arranged, loaded baked potato. The warm potato was topped with butter, sour cream, pre shredded mild cheddar (slightly dried out) and freshly cut chives, then finished with chunks of chopped turkey.
The turkey was tender, juicy, and gently smoked. It was better than average, but would have benefitted from a touch more perfume from the smoking wood.
The potato, however, needed some serious work. It arrived only slightly warm and undercooked; the butter wasn't melted. When we alerted the manager, he quickly replaced it… with another slightly warm, undercooked potato. The manager on duty told us that he'd checked the internal temperature himself, and it was correct to HEB's 140 degree specification. The manager (a very nice guy who was clearly interested in our feedback) even showed me a photograph of the inserted thermometer showing 140-145.
But the potato was undercooked.
I'd never researched this before, but upon returning to my desk, five minutes with Google revealed that an internal temperature of 210 degrees is considered ideal for baking potatoes (other sources confirmed this). Apparently HEB needs to update its specifications unless it wants to serve an undercooked potato. It is apparent that their kitchen isn't staffed with experienced restaurant cooks; I can't imagine that a professional cook wouldn't know how to properly bake a potato.
Fortunately, this should be an easy fix.
Fatty Brisket
As any Texan will tell you, the standard test for Texas BBQ is the brisket… preferably the fatty (or moist) brisket. Lean brisket can be good, but there's flavor in the fat, and the fatty end is the part most BBQ connoisseurs crave.
Pit masters experiment for years to learn to select the perfect brisket, concoct the ideal rub, and perfect the smoking technique that brings the most out of each individual brisket.
So how does HEB, who's new to this game, do? Let's find out. At the counter HEB sets a pretty high bar: At $18.50 per pound, HEB's brisket is priced higher than Corkscrew BBQ, our benchmark for great brisket.
The brisket arrived thickly sliced, with a nice pink 3/8" smoke ring. Curiously, the smoke ring was only on one side of the brisket. The bark was dark, thin, and soft… and again, only on one side of the brisket.
As you can see, the fat wasn't particularly well-rendered, leaving significant zones of creamy white fat intact in the midst of the beef.
Cutting into the brisket revealed an inconsistency of texture. Some regions were beautifully tender and soft; others were dense and far too firm, requiring a saw-like technique with the supplied plastic knife.
Tasting the brisket revealed a uniformly mild flavor. Clearly this was high-quality brisket, but the flavor was more like roast beef than BBQ. The flavor of smoke was somewhere in there, but was so far back in the flavorway as to be lost in the more dominant beefy and fatty flavors. The bark lacked an assertive kick of pepper; it mostly contributed a needed bit of saltiness.
In summary, I think the brisket has potential, but the potential hasn't been realized. A more fragrant mix of wood, a bit more time in the smoker, and improved technique to even out the cook across the brisket could result in a greatly improved product. Learning to create top-quality BBQ takes time and experience; even a top notch organization like HEB isn't going to perfect this craft right out of the box. Hiring an experienced pit master to oversee the preparation, smoking, and slicing of the brisket seems like a prudent course of action.
In Summary
HEB should be applauded for bringing a legitimate BBQ operation to its new Magnolia store. This early visit showed promise, but there is work to be done. Based on the food that came out, it appears that the hard-working staff has experience in the grocery business, not the restaurant business. Adding a couple of pros in the restaurant field would go a long way to taking HEB True Texas BBQ from promising to outstanding.
There are hundreds of Mexican restaurants on Houston's north side. How does a humble writer determine which ones are worth visiting? You can try them all, but that takes an incredible amount of time, even if you love Tex-Mex like we do. You can check Yelp, but its reviews simply aren't that accurate. You can read blog and print reviews, but what if it's a new place?
I've pondered this for quite a while, and I came up with a good shortcut. I created the Woodlands Area Foodies group, and it's grown to over 9,000 members, many of whom are incredibly knowledgeable about food. One of the most knowledgeable is my friend Bob Frasier. Bob is an incredible cook, and very well versed in numerous cuisines.
Recently Bob posted about a new Tex-Mex restaurant not far from the Woodlands, calling it "My new favorite Mexican spot in my neck of the woods". Trusting Bob's palate, I headed out to Rita's Cantina, located north of Tomball on Hwy 249, near Hardin Store Road.
Located in a nondescript strip center, the outside of Rita's could be confused for dozens of Mexican spots in the area. But stepping inside revealed a neat, clean interior, with thoughtful little touches. Clearly, the management cares about the customer's experience, always a good sign.
But how's the food? Looking across the spacious dining room, I found Bob and his lovely bride Heidi. Joining them for lunch, we surveyed the menu and made some choices. Bob assured us they were good ones. We believe in Bob. Will this trust be misplaced?
Ceviche
First to come out was the ceviche. The presentation was impressive: A hefty goblet filled with fish, shrimp, onion, and tomato, garnished with cilantro and topped with artfully arranged avocado slices.
The marinade used for the fish was a deliciously zingy citrus-based juice, combining with the fresh tangy onions to create a classic Peruvian-style ceviche… which happens to be my favorite. And this was an excellent example, flavorful, generously portioned, and beautifully presented.
As we were finishing the ceviche, the hot plates started arriving.
Beef Quesadillas
First out were the beef quesadillas, a standard dish that's popular with adults and children alike. The formula at Rita's included sliced skirt steak (as found in fajitas), and plenty of melty white cheese, sandwiched between two thin housemade flour tortillas.
Accoutrements were plentiful: A slathering of sour cream, some beautiful pico de gallo, and a scoop of Rita's guacamole. The quality of the ingredients shone through on this dish, making it one of the more flavorful quesadillas we'd tried in quite a while.
Combo #7: Tamale, Beef Enchilada, Chicken Enchilada
Next up is a combo plate - in this case Combo #7. Consisting of a pork tamale, a chicken enchilada and a beef enchilada, we felt that it gave us a good overview of what Rita's chef can do with various proteins.
As an aside, Tex-Mex is often difficult to present. It may be delicious, but on the plate it can be yellowish brown and not incredibly appetizing. The presentation here was different and appealing.
Bright colors made the first impression. Beautifully fresh tomato, diced expertly. A sprig of green cilantro, draped over the green and white arrangement of tomatillo sauce and crema that blanketed the chicken enchilada. This burst of color was flanked by the red Colorado-style chile gravy on the beef enchilada, and the more earthy, dark pork tamale.
Looks are wonderful, but tackling this appealing plate proved that the beauty wasn't just skin deep. From the pork tamale to the chicken enchilada and finishing with the beef enchilada, all of the components were nicely seasoned, distinctly flavored, and were each excellent renditions of their respective dishes. Together they created a very satisfying whole, one we'd order again. Tomorrow, if we're lucky.
After finishing the last tasty bite of Combo #7, Bob smiled and with a twinkle in his eye, said one word: Dessert.
Cuatro Leches
Bob, you're an evil, evil man. That's one reason why we're friends. A quick consultation with our knowledgeable server resulted in our order of their Cuatro Leches cake. We'd had Tres Leches from numerous establishments, but Rita's wasn't going to be satisfied with tres.
Again, the plating tempted our eyes before the fork touched the cake. A rich, saturated slab of cake was laid upon an artful arrangement of strawberries and blueberries, adrift in the four milk solution that had saturated the cake. Atop this was a crown of strawberries and freshly whipped heavy cream, drizzled with caramel and dusted with cinnamon.
And yes, it tasted better than it looked. No small feat.
To say we were impressed with Rita's Cantina would be an understatement. To find a gem like this in the far northern reaches of Tomball is amazing. The restaurant can hold its own with any hotspot you care to name in the Houston area.
We confirmed two important rules: Great food can be found all over the Houston Area. And when Bob says to try a place, try it. Now.
Rita's Cantina Mexican Kitchen | 32015 State Highway 249 | Pinehurst, TX 77362 | (346) 248-5097